Form And Function Combine With Decorative Window Film For Long Island Homes
The Long Island is a lovely area to live and own a home, apartment or condo. The neighborhoods here are each uniquely beautiful in their own way from to Oyster Bay to Glen Cove and all the neighborhoods in between. Because of the beauty here, as a homeowner, you definitely want to enjoy unhindered views as much as possible from some windows of your Long Island home while on others want more privacy: bathroom, bedroom, and entryway windows to name a few. This is why industry-leading window film companies like Llumar, 3M, Vista, Hanita, and others created decorative privacy films which are not only for commercial use in office but for homes too. These films can be used for short or long term updates but either way will always enhance your home's style too! Check out the creative ideas below for uses of decorative window film in your Long Island home. The work for everything from adding privacy, to creating new, stunning interior design.
Ideas On How To Use Decorative Window Film For Your Long Island Home's Interior Decor
Whether you're trying to step up your home's interior style, add more privacy or make a bold statement in your Long Island Home, window film is the home improvement you need. You can choose from many high definition finishes and styles like frosts, patterns, textures, gradients and even custom designs too. This makes it simple to design a perfectly functional but simultaneously stunning interior home space–at an affordable price point as well.
Ideas for decorative window film home enhancement include:
Decorative Window Film ForBathroom Shower Glass: The days of the difficult shower curtains and window curtains are through! Decorative window film is great for bathroom windows for privacy but also works on glass shower enclosures too. This means you can play with patterns and light in the bathroom but still shield views–all at a price point you can afford. Some decorative window films also make regular glass into safety glass so, it can be used to bring your bathroom up to code as well.
Decorative Window Film For Cabinet doors: Glass cabinet doors are beautiful but not very effective for concealing the clutter in your cabinets. Decorative window film changes the game by allowing for that same whimsical glass cabinet door appearance–but with a level of cloaking you choose for the items within.
Decorative Window Film For Exterior Windows: Some places in your home simply need more privacy than others like the bedroom, bathroom, and entryway. Decorative window film lets you customize your level of privacy on these windows without sacrificing natural light. You can totally obscure the outside view or choose a pattern that allows for little clarity. There are many beautiful colors patterns and textures available too so you can get as creative as you want with these gorgeous films.
To learn more about window film, watch the video below: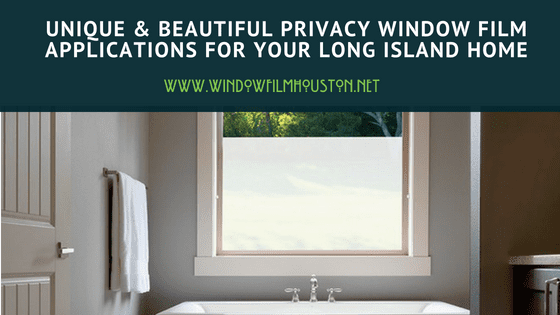 For more information on how decorative window film could enhance your Long Island home, contact us today for a free design consultation